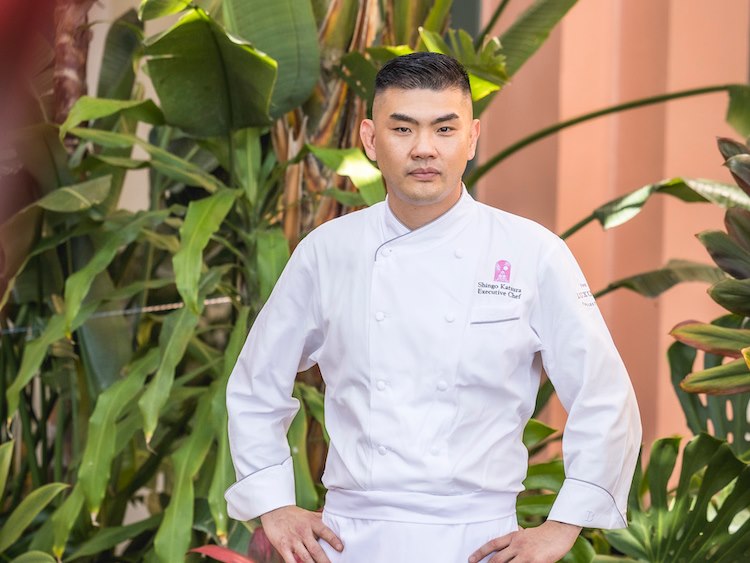 Chef Shingo Katsura, Executive Chef
Since returning home to Hawaii in 2018, Chef Shingo Katsura has been reinventing the cuisine at some of the best-loved beachside culinary landmarks at The Royal Hawaiian, a Luxury Collection Resort.
Born in Kyoto, Japan, Katsura came to the United States with his family when he was 13, and spent his teenage years on the island of Oahu. His Japanese-American mother wanted him and his sister to live in the United States so they could be familiar with both Japanese and American cultures.
Having a restaurant owner chef as his father, Katsura has always had a sweet spot for food in general.
However, being a competitive martial artist and having to lose weight constantly, he often had to step back from food. When his judo career ended with a broken elbow, that opened another door for Katsura: pursuing his other passion to become a chef.
His first restaurant job was a busboy at his father's Japanese restaurant in Honolulu, Hawaii. After he graduated from high school, he relocated to California where he began his culinary journey.
Katsura's professional culinary career started at Madera, a Michelin-starred fine dining restaurant in Silicon Valley in 2010 where he worked as first cook until 2012. Katsura then joined the R&R Group in Los Gatos, California. He started as a sous chef and worked his way up to corporate executive chef for Cin Cin Wine Bar and Centonove Restaurant. Prior to joining Azure Restaurant, Katsura was at Roots & Rye in San Jose, California where he started as chef de cuisine and was eventually promoted to executive chef. He went on to help that group open a second restaurant, The Province.
In his spare time, he likes to test recipes at home and practice judo.
"This oceanfront restaurant glistens like a jewel while the menu features the freshest possible seafood."

- Gayot Review

"Outstanding service and fine dining on Waikiki Beach."

- OpenTable Review

"The service was impeccable and my overall experience was one that I'll remember for years to come."

- TripAdvisor Review